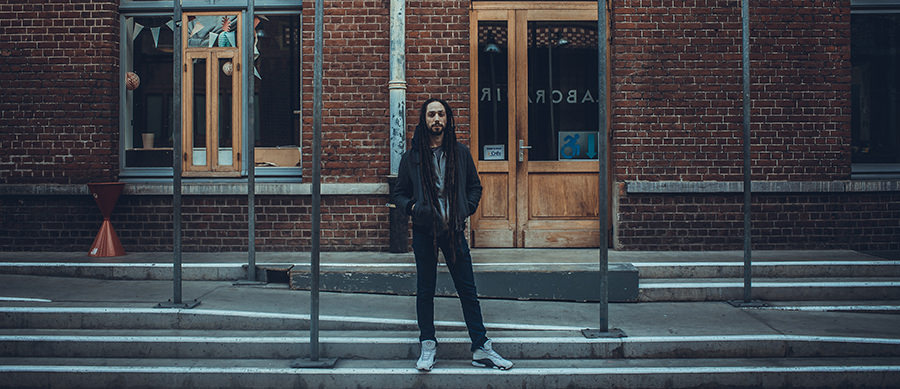 Originally from northern France, the artist-composer T-JAH currently operates in the Lille region.
After an academic musical training of the piano for more than ten years, T-JAH made his classes in the middle of the Black Music by collaborating with several groups and studios of the region
Composer and keyboardist of the group H.O.P, it is on stage that T-JAH reveals a true vocation for a career of artist-composer in the years 2010.
T-JAH watches the new movements of the world of music and offers us trendy and groovy sounds, with a perfect knowledge of popular and contemporary musical structures. He creates his own original melodies while perfecting his culture of the underground.
His inspirations are first Caribbean music (Reggae, Dancehall, Afrobeat, Zouk) but also the rich medium of hip-hop (Trap, Boom-bap, Cloud, Drill etc.).
The artist has worked hard beatmaking and composition of instrumental music for the world of reggae, pop, hip-hop and contemporary Afrobeat. Multi-instrumentalist, He thus combines traditional acoustic practices with digital technologies of M.A.O ..
Thanks to the development of the web and the networking of artists around the world, it is now internationally that T-JAH can operate. He is currently collaborating with many international artists, Labels and Studios.
---
Originaire du nord de la France, l'artiste compositeur T-JAH opére actuellement dans la région Lilloise.
Après une formation musicale académique du piano pendant plus de dix ans, T-JAH fait ses classes dans le milieu de la Black Music en collaborant avec plusieurs groupes et studios de la région 
Compositeur et claviériste du groupe H.O.P, c'est sur scène que T-JAH révèle une véritable vocation pour une carrière d'artiste compositeur dans les années 2010.
T-JAH veille les nouvelles mouvances du monde de la musique et nous propose des sonorités tendances et groovy, avec une parfaite connaissance des structures musicales populaires et contemporaines. Il crée ses propres mélodies originales tout en perfectionnant sa culture de l'underground.
Ses inspirations sont d'abord les musiques caribéennes (Reggae, Dancehall, Afrobeat, Zouk…) mais aussi le riche milieu du hip-hop (Trap, Boom-bap, Cloud, Drill etc.).
L'artiste travaille ardument depuis plusieurs années le beatmaking et la composition de musiques instrumentales pour le monde du reggae, de la pop, du hip-hop et de l'afrobeat contemporain. Multi-instrumentiste, Il allie ainsi pratiques acoustiques traditionnelles avec technologies numériques de M.A.O..
Grâce au développement du web et de la mise en réseau des artistes à travers le monde, c'est désormais à l'international que T-JAH peut opérer. Il collabore actuellement avec plusieurs artistes, label et studios à l'international.